The chicken broth is made to simmer. There's no point in rushing this dish, so it's best to prepare it on one of those relaxing winter days when we feel like eating something warm and restorative like a soup that fills us with energy, but without to be heavy.
This sauce began to be prepared in the 50s in industrial areas for workers and night owls and still is very popular in Peruwhere it is served 24 hours a day, 365 days a year.
This is a very light sauce, made with chicken and some vegetables such as celery and spring onions. In addition, it has an ingredient that can shock us into making a sauce, the ginger or somethingso called in Peru, the result of the influence of Chinese immigrants who arrived in this country.
The sauce is accompanied by noodles that we will cook separately to eat al dente in the soup later. It is also served with a boiled egg, onion stalks, lime, some oregano and the same chicken stock. Since it has potatoes, we'll also dish out a portion at each meal. Apart from that, pik is prepared, a corn that is fried and a little salt is added to include it in the soup when it is time to serve it.
Sofia de la torre
recipe information
Preparation time: 10 minutes
Cooking time: 2 hours and 30 minutes
total time: 2 hours and 40 minutes
rations: 4
Category: main course
type of kitchen: Peruvian
Calories per serving (kcal): 684
Chicken broth ingredients for 4 people
2 chicken halves (about 1 kilo)
3 spring onions
2 celery stalks
2 garlic cloves
20 g of ginger
2 yellow potatoes
4 eggs
200 g noodles
200 g field
2 tablespoons of olive oil
1 lime
½ teaspoon of oregano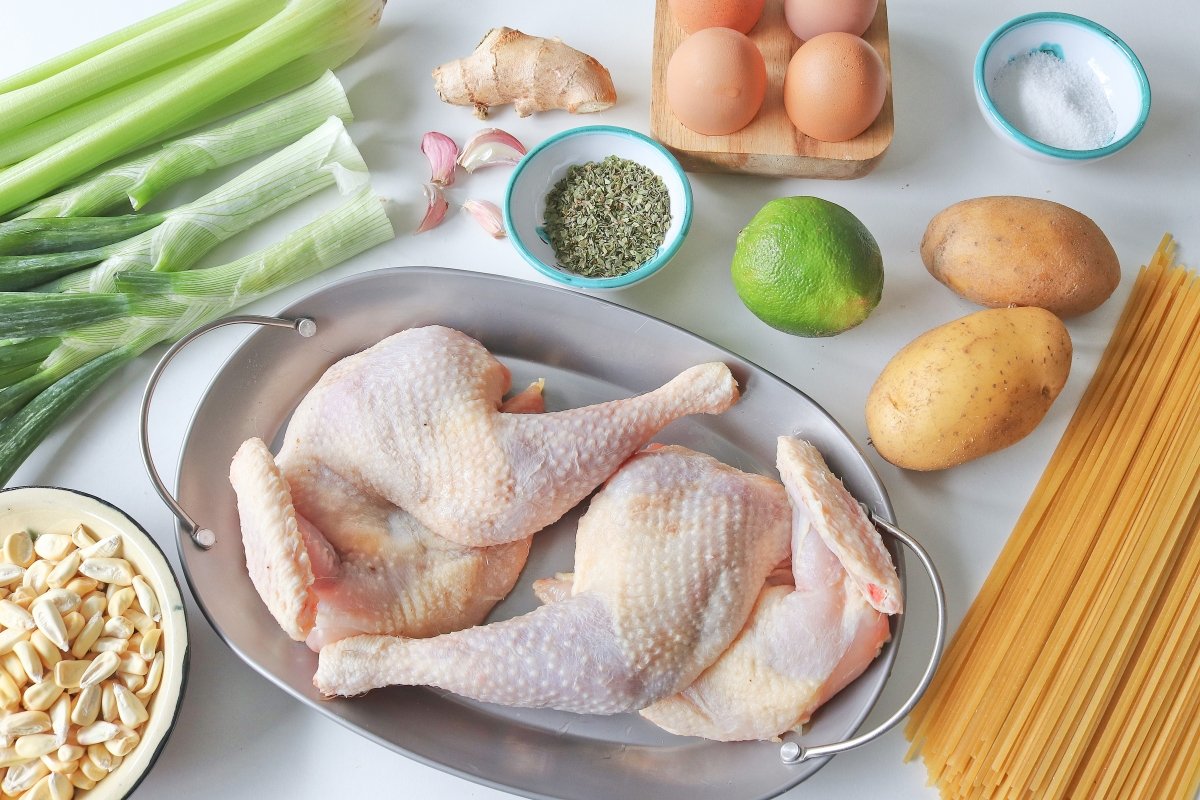 Sofia de la torre
How to make chicken broth
To make this sauce, we are going to use a clean hen of about 1 kg that we divide into 2 or 4 pieces to facilitate cooking in the pot. We will need a large pot where, in addition to putting the chicken, we will also use 3 spring onions (keep some of their greenest part to use in the plating), 2 celery stalks, 2 peeled cloves of garlic, 20 g peeled ginger and some salt. Cover the ingredients with 2 liters of water and cook for about 2 hours over moderate heat. Most likely the sauce will make some foam which we will remove during cooking.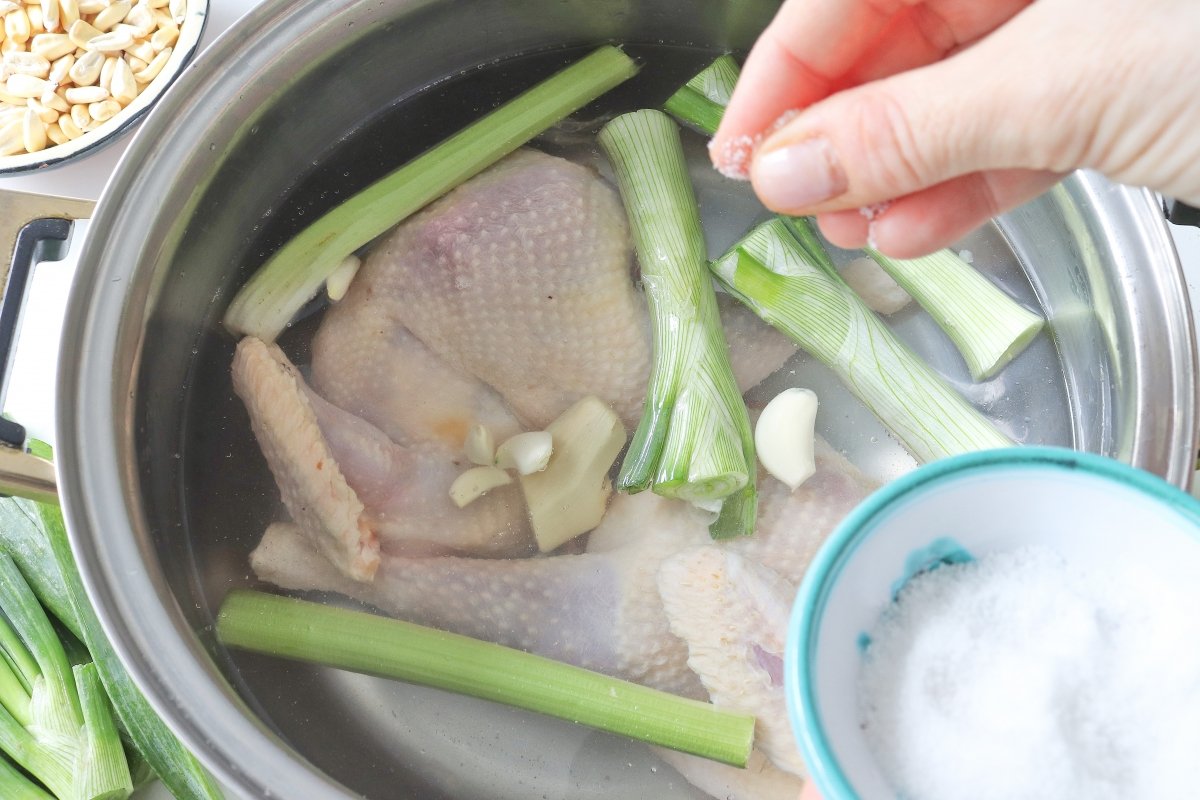 Sofia de la torre
After 2 hours of cooking, add 2 peeled potatoes to the sauce and continue to cook over medium heat for another half hour.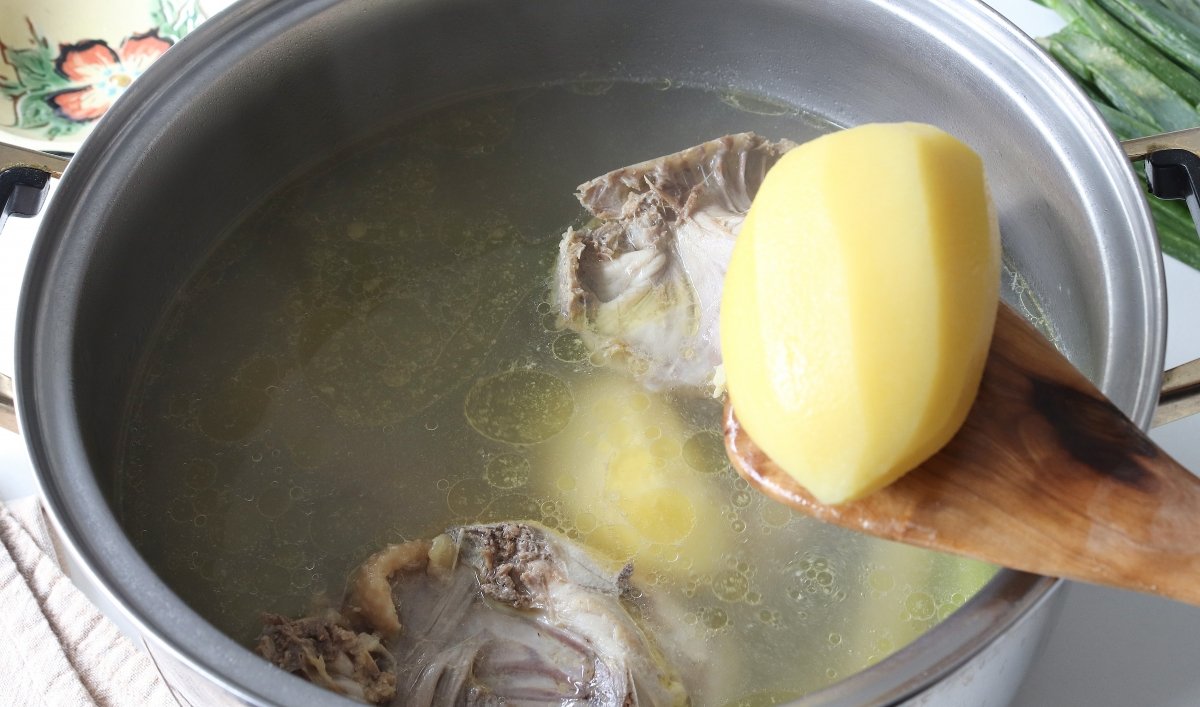 Sofia de la torre
While the sauce is being made, we boil 2 eggs for 8 to 10 minutes, peel them and keep them.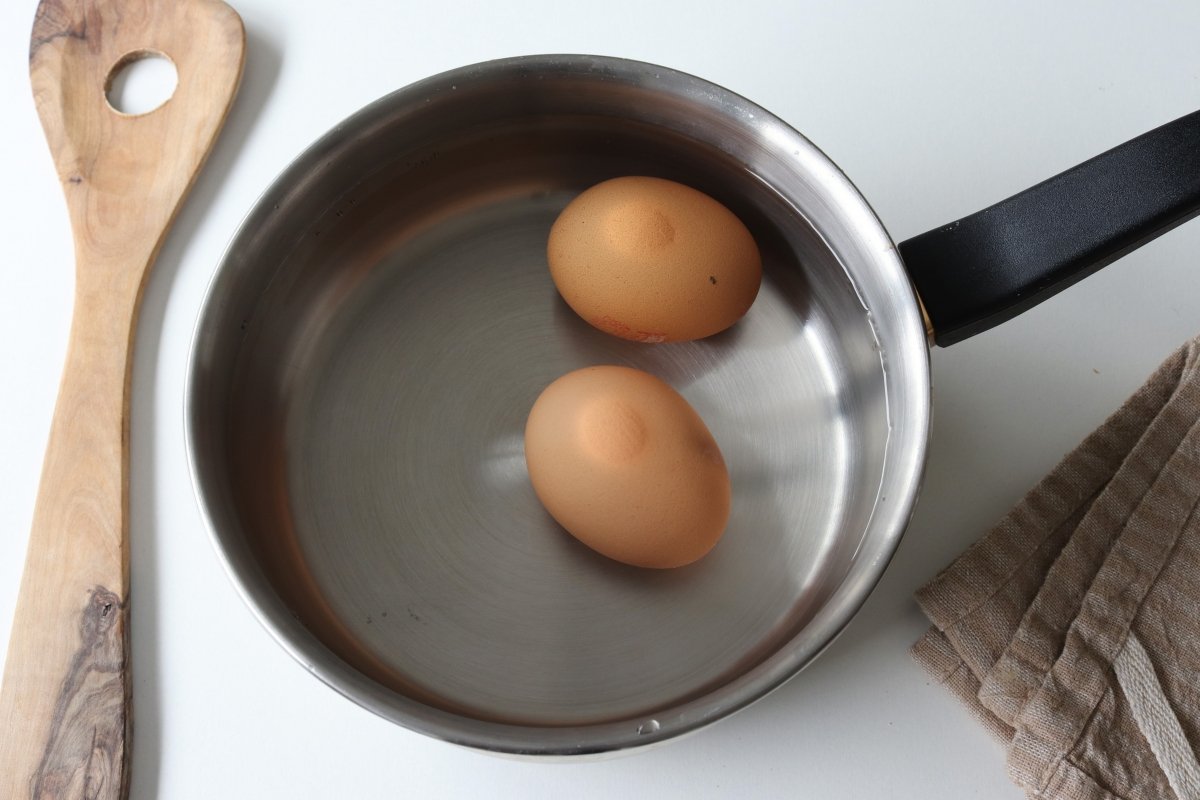 Sofia de la torre
On the other hand, we will also cook 200 g of noodles al dente and we will also keep them until serving time.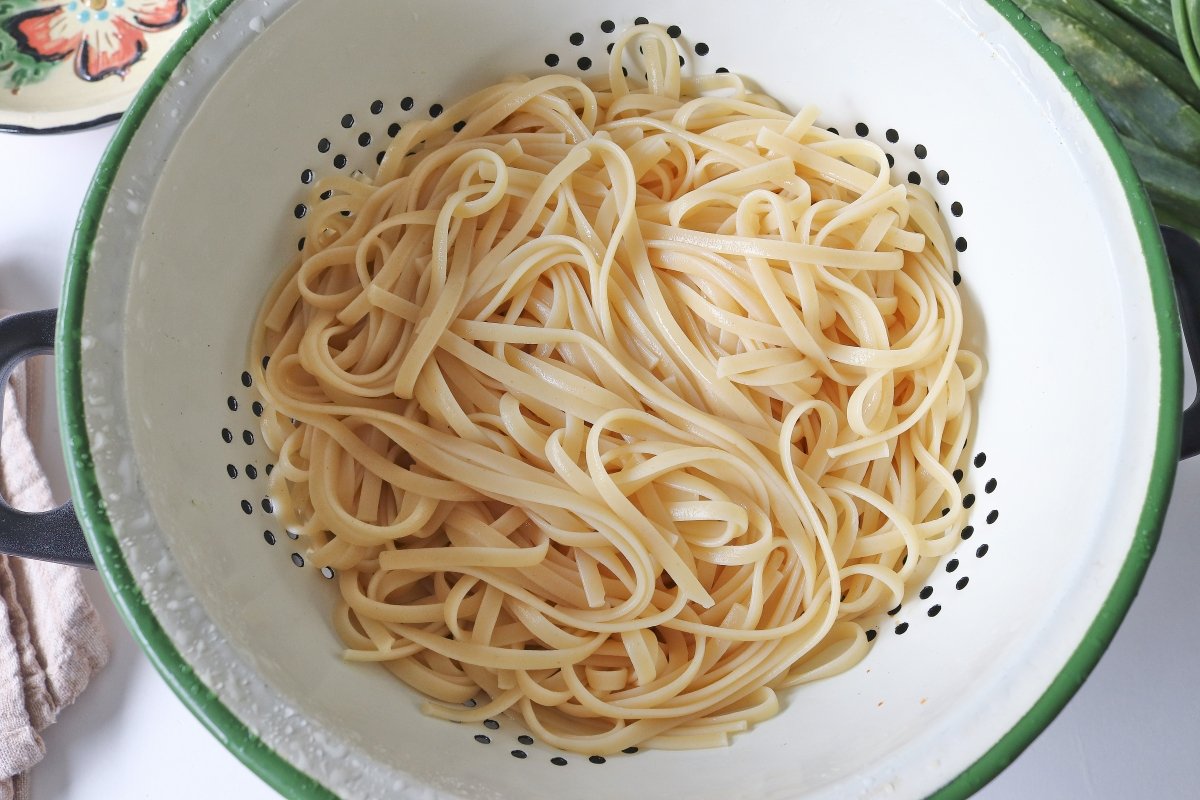 Sofia de la torre
The last of the accessories for the chicken broth is the fried field. In a frying pan, roast 200g of cancha over low heat for 10 minutes, stirring constantly. Pour 2 tablespoons of olive oil and finish frying the hof for another 10 minutes, stirring constantly. Finally add some salt and reserve.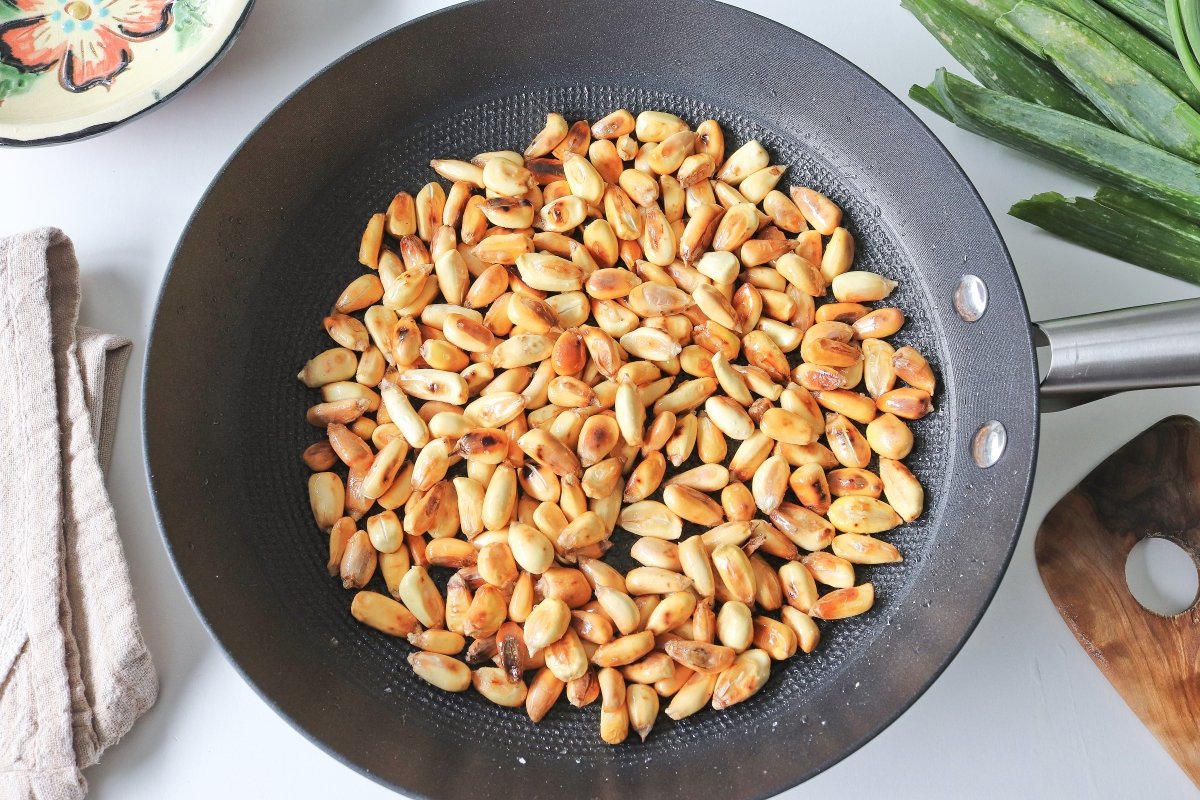 Sofia de la torre
We beat 2 eggs and add them little by little so that they don't curdle, to 2 or 3 saucepans of the sauce.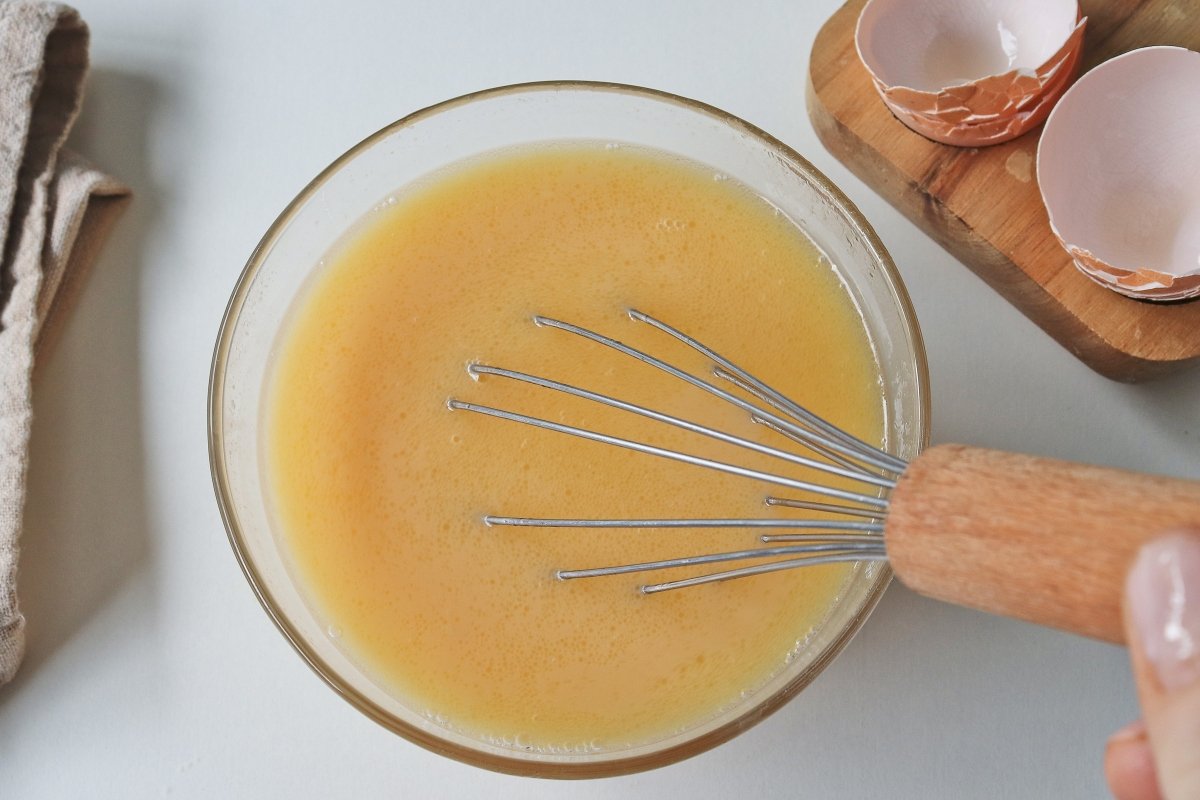 Sofia de la torre
Once off the heat, add the beaten eggs to the sauce and prepare a bowl to serve.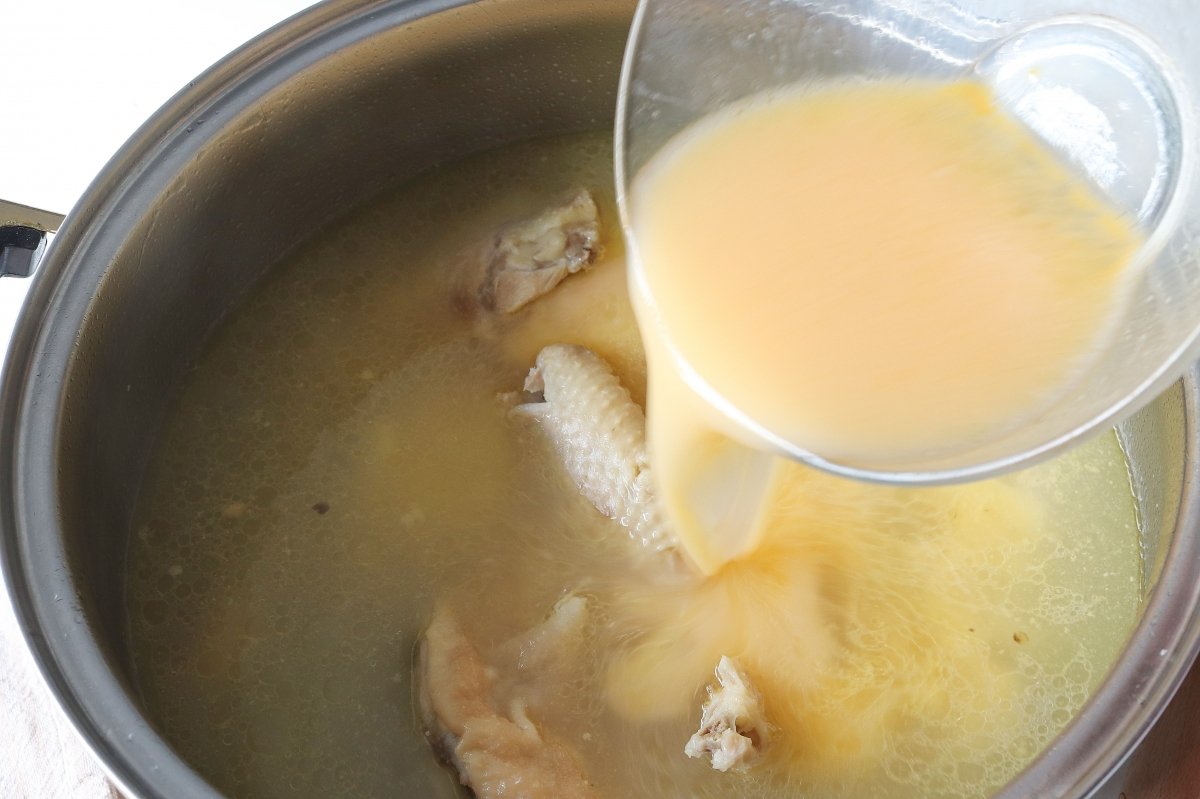 Sofia de la torre
Serve the chicken broth, divide the al dente noodles between 4 bowls. We also add half a potato to each bowl, a piece of chicken and half a boiled egg (if we like it with more eggs, we can add one per person make ). We pour sauce to cover part of these ingredients.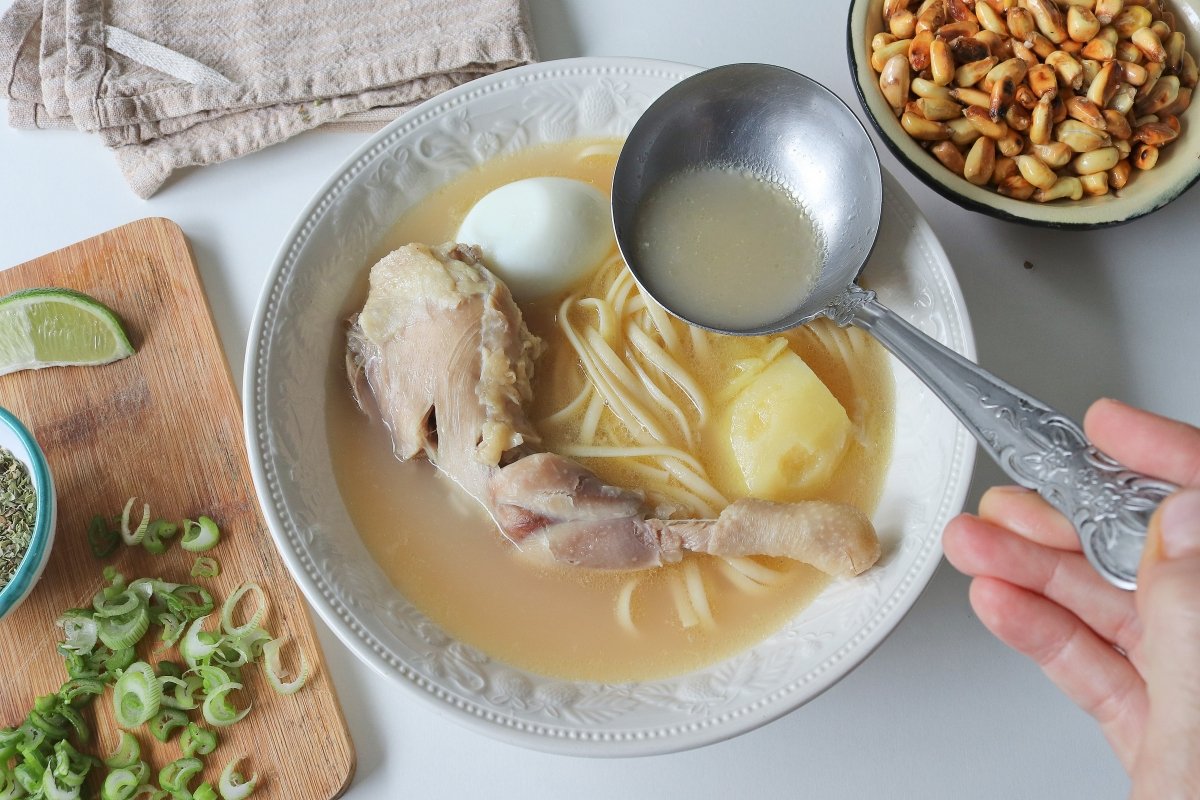 Sofia de la torre
We finished the dish with a splash of lime juice, the green part of the chives we reserved, some oregano and cancha.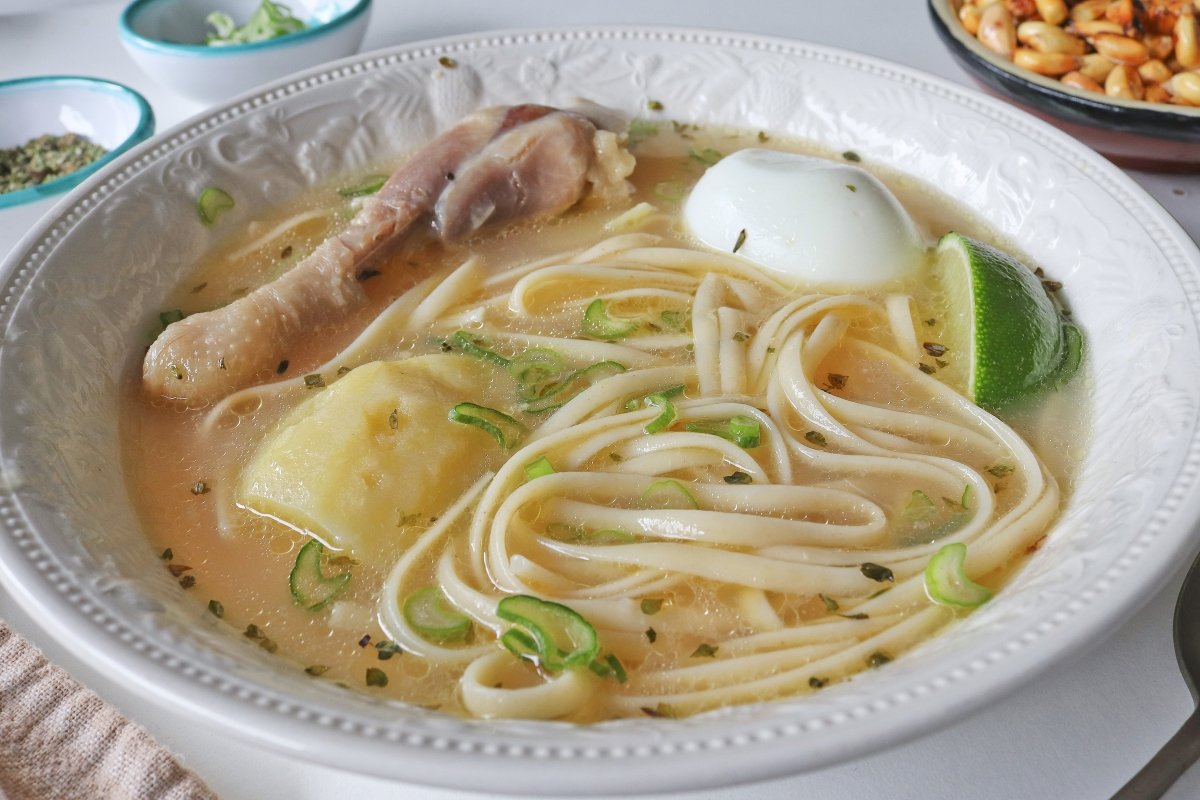 Sofia de la torre
Easy preparation summary
We make a sauce by combining the chicken, the vegetables, the ginger and the salt with 2 liters of water. We cook it for 2 hours
Add the potatoes to the sauce and cook for another half hour
We boil 2 eggs, peel them and preserve them
Cook the noodles al dente
We roasted the court
We beat the remaining eggs with a little sauce
Add the beaten eggs to the sauce along with the rest of the soup
We plate with the noodles, chicken meat, potato and egg and pour sauce
We complete the chicken broth dish by adding lime juice, chives, oregano and fried chicken