This cod with cherry tomatoes is one of the easiest, fastest and richest ways to cook cod and you only need 5 minutes to have this recipe ready on your table.
It is fat-free and a recipe suitable for everyone, gluten-free, lactose-free, but with all the protein of fish and all the vitamins of tomatoes.
You already know I'm a big fish, I'd say more fish than meat. Perhaps being born near the sea has a lot to do with it, and maybe that's why we also eat a lot of fish at home, twice a week. so I try to switch up the ingredients, the oven and the pan to keep the flavors and textures varied. This one is one of our favorites today. I hope you like it as much as we do.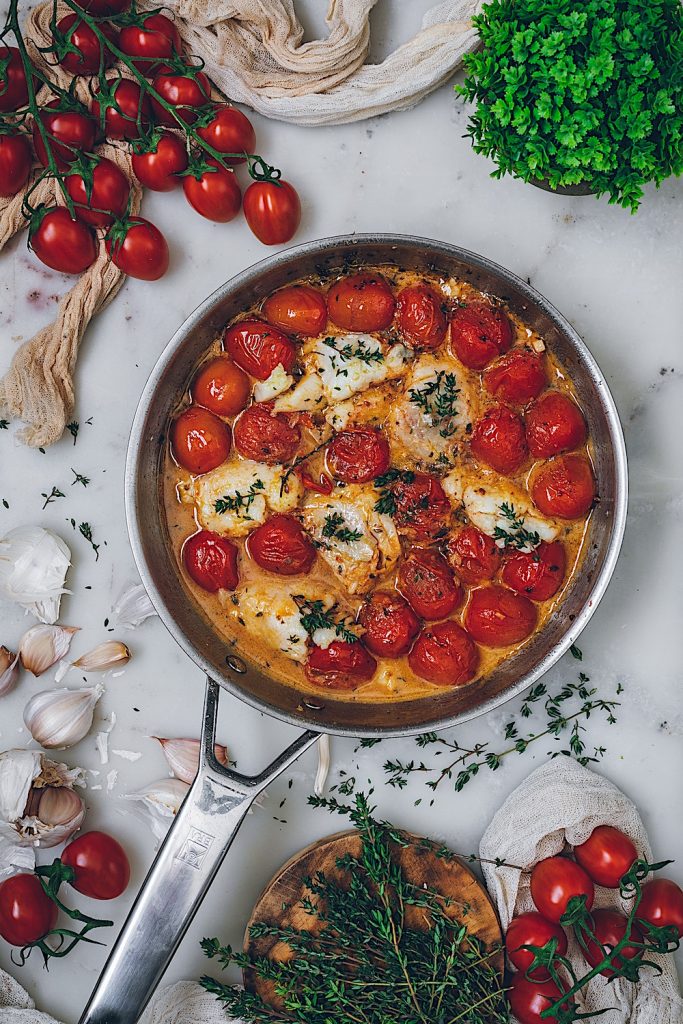 Ingredients
4 tablespoons extra virgin olive oil
1 minced cod loin, cut into pieces
Salt and freshly ground pepper
4 cloves of garlic, chopped
1 tablespoon chopped fresh thyme
1 crushed cayenne pepper
4 tablespoons of salted butter
¼ cup dry white wine
2 cups of cherry tomatoes
2 sprigs of chopped onion
The taste of 1 lemon
Heat 2 tablespoons olive oil in a large skillet over medium heat. Season the cod on both sides. When the oil shimmers, add the cod pieces and brown for 2-3 minutes on each side. We keep in a plate.
In the same skillet, combine the remaining 2 tablespoons olive oil and the garlic, thyme, and cayenne. Cook for a couple of minutes. Add the butter and stir until melted and browned, 2 to 3 minutes more. Add the wine and tomatoes and cook for about 5 minutes, until the tomatoes have burst and the wine has reduced slightly.
Return the cod and released juices to the pan and cook until heated through, about 3 minutes. Remove the pan from the fire.
Serve the cod with tomatoes and a pan sauce on top. Finish with finely chopped onion and lemon peel.