Real bad weather is upon us again next week – at least if you go by the forecasters. It will be a while before spring. But it's not bad – on the contrary! When it's cold outside, it's time for delicious soup. A true classic is the goulash soup – in this recipe we will tell you how to prepare a goulash soup like a chef. To have fun and bon appetit…
Also read: Make your own Shakshuka: With this recipe, a delicious breakfast is guaranteed >>
Recipe for goulash soup as from the chef: this is how the stew becomes really tasty
And this recipe is really great! It doesn't take many ingredients to conjure up a delicious goulash soup. As with many goulash recipes, beef forms the base for this stew. There are also various other ingredients such as peppers, onions and potato cubes. In combination with various spices, you can easily cook a delicious goulash soup that tastes as if it was made by the chef himself.
Also read: Make your own Shakshuka: With this recipe, a delicious breakfast is guaranteed >>
By the way, a delicious slice of bread goes well with the finished soup, as well as a big dollop of crème fraiche. By the way: The goulash soup tastes even better if it is soaked – so it can easily be cooked in advance and reheated the next day. Be sure to try this delicious recipe for Chef's Goulash Soup – you'll be amazed!
Also read: This recipe is fantastic! Brilliant tortellini salad with peas and bacon: you've never eaten pasta bags like this >>
Ingredients for goulash soup: This is what you need
You need: 700 grams of beef goulash, 2 cloves of garlic, 3 onions, 2 peppers, 5 potatoes, cumin, paprika powder (noble sweet), paprika paste (mild or hot), 1 bunch of soup vegetables, 200 grams of tomatoes, some clarified butter, 2 liters of water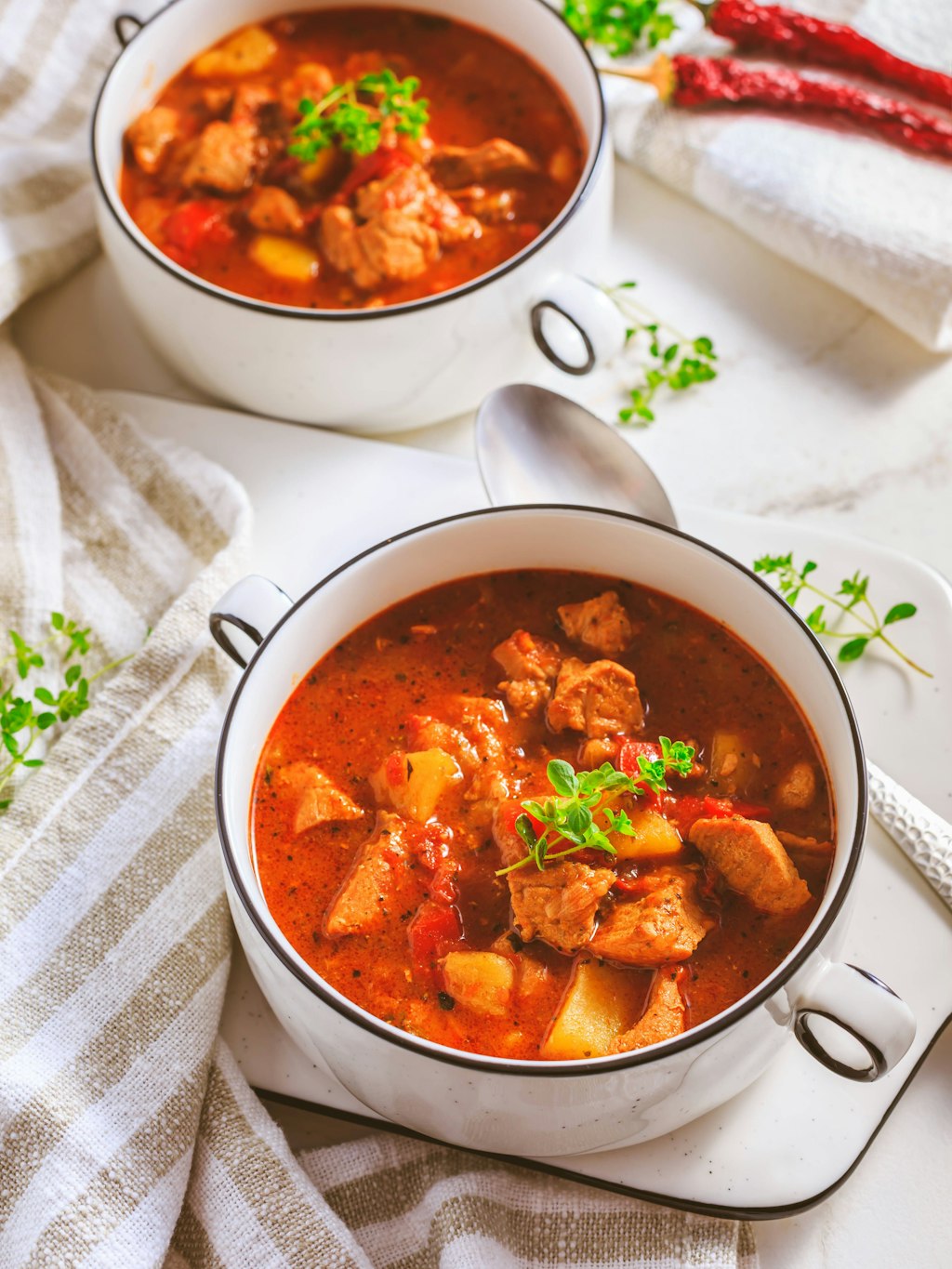 This is how it works: Peel and finely chop the onions and garlic cloves. Heat some clarified butter in a large saucepan and saute the onion and garlic pieces in it. Add the beef goulash and fry. Then add the paprika and roast lightly. Deglaze with the water, bring to the boil and simmer, covered, over moderate heat for about 45 minutes.
Also read: Delicious, easy, cheap: Recipe for tortellini with tomato sauce – the pasta classic brings a holiday feeling to the table! >>
Meanwhile, clean the soup vegetables and cut them into small cubes. Add to the meat after cooking. Now peel the potatoes and cut them into small cubes. Wash the peppers, remove the core and cut the flesh into small pieces. Wash and cut the tomatoes into small pieces. After another 30 minutes of cooking time, add the peppers, tomatoes and potatoes to the goulash and cook until the vegetables are cooked.
Season the goulash with salt, pepper, paprika powder and cumin and keep warm until serving. A delicious slice of bread goes well with the delicious beef goulash, just like from the chef – but of course you can also serve the goulash with other side dishes, such as pasta. Enjoy your meal!
Also read: Nice recipe from the 90s! Do you remember how to make a Hermann? This is how you easily prepare the cake batter >>