Contents
Are you the soup bag type? Or would you rather buy a freshly made soup to go? Are both okay? And yet: Make sure you make your own soup again. It's incredibly easy and the soup tastes incomparably good. You can find tips on how to cook soup successfully here.
The elegant miso soup with wakame and silk tofu from the Japanese or the hearty goulash soup in the top restaurant. Yes, soup makes you happy and warms your stomach and soul.
But let's be honest: When was the last time you made a soup yourself? If you are now starting to think and slightly doubt whether you still have the technical skills to cook soup, then our short instructions on how to cook soup will certainly come in handy.
The time
If you want to cook a soup, you have to take your time. "It takes at least half an hour to cook a simple but good soup," says Tine Giacobbo, who worked at the stove in the legendary "Alpenrose" in Zurich for 22 years and also ran a small soup shop nearby. Her soup recipes were also published as a cookbook. The woman is therefore a proven soup expert and firmly believes that the time it takes to cook a soup is time well invested. Especially people with a stressful everyday life, she says, find peace when they cook soup.
Simmer instead of boiling
Taking time to cook also means simmering instead of boiling. Tine Giacobbo says that when you cook soup, it shouldn't steam up in the kitchen like it used to in the laundry room. If you cook the soup on too high a heat, the aroma escapes with the steam.
The onion
Every good soup starts with an onion, says Tine Giacobbo. Peel the onion, chop finely or coarsely, depending on the recipe and saute in clarified butter or olive oil. And if you're afraid of peeling onions, Tine Giacobbo says: "Crying a little while preparing them is simply part of it, your soul then has free rein to cook a good soup."
Start with a simple soup
Tine Giacobbo says that if you are new to making soup, it is a good idea to start with a simple soup. For example, a potato soup: peel the potatoes and cut them into cubes. Chop the onion and sauté it lightly in olive oil or a little butter over low heat. Add the potatoes and let them soak. Deglaze with a little sauce and simmer on a low heat until the potatoes are nice and soft. Season with salt and pepper.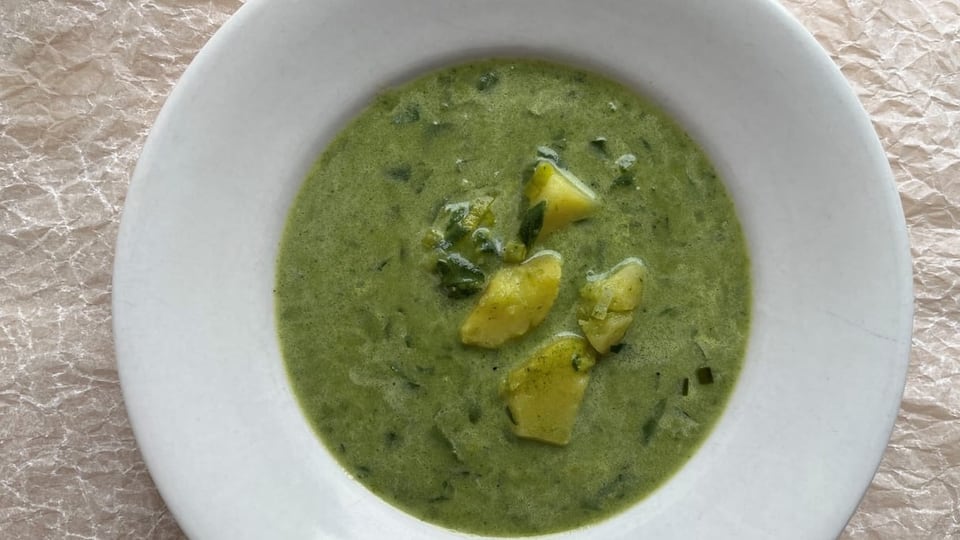 Refine it
Regardless of whether you like "chunks" in the soup or are a fan of pureed soup and reach for the hand blender before serving, don't forget to add the culinary crown to your soup at the very end. Refinement is the magic word for good soup, says Tine Giacobbo. As a finishing touch, the chef recommends adding a little butter, olive oil or rapeseed oil to the soup. Alternatively, you can also stir in cream or sour cream. Freshly chopped herbs provide a green note and chopped nuts add some bite and crunch. And when it comes to potato soup: This, says Tine Giacobbo, literally becomes a gourmet dish if you refine it with a splash of cream and a little truffle oil at the very end.
Two book tips for cooking soup

open box
Box zuklappen

"Soup cookbook", Tine Giacobbo and Katharina Sinniger, real time publishing
"The soup of classic French cuisine", Romeo Brodmann, Verlag brodmann uie media
For whom the sausage is not "wurst".
If you love sausages like Tine Giacobbo, you can add some «Redli» sausages to the soup before serving it or eat a «Wienerli» with it.
Use the playground
Tine Giacobbo says anyone who cooks soup can blow off steam on a large culinary playground. In other words: Just look in your fridge and "cook" what the vegetable drawer has to offer. Add some leeks, celery or cauliflower to the potatoes, combine tomatoes with peppers or broccoli, or zucchini with eggplants, depending on the season. And if you have leftover rice, lentils or uncooked spelled in the fridge, go ahead and add them to the vegetable soup. By the way, the cooking procedure is always the same: chop the onion and sauté it in a little clarified butter or olive oil, add the vegetables and sauté them, deglaze with bouillon and simmer until the vegetables are cooked.
With cruciferous vegetables such as cauliflower or broccoli, Tine Giacobbo recommends cooking only the «Rösli» from the start. She adds the stems to the soup just a few minutes before serving. And peeled and thinly sliced. Thanks to this procedure, the soup tastes less intensely of cabbage.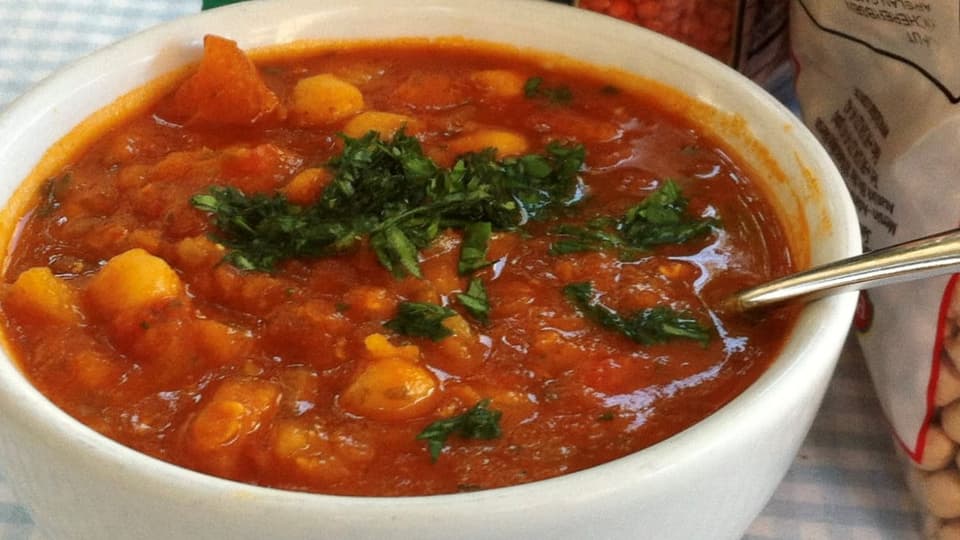 Always cook a double portion
When it comes to soup, it's always worth preparing a double portion, says Tine Giacobbo. The soup often tastes even better on the second day than on the first. So you have once the trouble and twice the pleasure. And who says the soup has to taste "exactly the same" on the second day? A handful of finely chopped leeks or diced bacon, for example, turns yesterday's potato soup into a new dish in no time. Or you can add some finely chopped apple pieces or mustard seeds to the leek soup. That way, says soup expert Tine Giacobbo, you're guaranteed not to get bored, even the second time you heat it up.